About Us
The VALUE initiative breaks new ground by basing its assessment of student learning achievement on the actual work that students produce in response to assignments from the formal instructional and co-curricular curriculum in whatever institution(s) the student attended. Rather than a standardized test divorced from the curriculum, VALUE draws evidence from the actual courses and teachers at an institution, assessing the learning artifacts (e.g., papers and assignments) produced by students to demonstrate their achievement of specific learning outcomes. Finally, the VALUE initiative utilizes the expertise of trained higher education faculty and other educators from the participating institutions to judge the quality of the student work in relation to widely accepted standards for each of the learning outcomes as captured through the faculty developed VALUE rubrics (McConnell & Rhodes, 2017, p. 3).
This database consists of every publication we could locate that focuses on VALUE. To best illustrate trends in the current landscape of VALUE research, we also categorized every article to reflect inherent themes related to major topics in the VALUE world. We hope that you find this database useful and encourage you to submit publications you think are missing via our collaborate page.
Britt Spears
Britt Spears serves as a Program Coordinator in the Office of Curricular and Pedagogical Innovation at the Association of American Colleges and Universities (AAC&U). Her primary role focuses on VALUE as an assessment approach and expanding VALUE resources further into academic spaces, into the co-curriculum, and to Minority Serving Institutions (MSIs). VALUE (Valid Assessment of Learning in Undergraduate Education) is a campus-based assessment approach measuring student learning both in the classroom as well as through co-curricular experiences. She is the project lead for the VALUE Research Hub, collecting literary resources and creating the site.
She is a graduate of Prairie View A&M University, a Historically Black University in her home state of Texas. During her educational experiences, she served as an HBCU All-Star with the White House Initiative for HBCUs and became an advocate for historically underrepresented populations. This led her to pursue her graduate studies at Missouri State University studying Higher Education and Student Affairs with a graduate assistantship in campus programming. Much of her graduate and current research is on access, equity, and inclusion.
Kate McConnell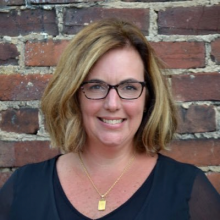 Kate Drezek McConnell, PhD, is Vice President for Curricular and Pedagogical Innovation and Executive Director of VALUE. Prior to taking on this role, Dr. McConnell served as AAC&U's Assistant Vice President for Research and Assessment and Director of the VALUE Institute, AAC&U's nationwide assessment system that enables any higher education provider (institution, PCE program, academic department, state, consortium, etc.) to collect and upload samples of student work to a digital repository and have the work scored by certified VALUE Institute scorers for external validation of institutional learning assessment. An educational psychologist by training, Dr. McConnell has written extensively on the reliability and validity of the VALUE approach to assessment. Her other research and campus consultations focus on using course-embedded assessment to improve teaching and learning while also addressing accountability and accreditation requirements; course-embedded assessment; aligning pedagogy with assessment efforts; faculty development; and leveraging the learning sciences in teaching, assessment, and evaluation. Before joining AAC&U, Dr. McConnell spent 10 years at Virginia Tech working in assessment and evaluation as well as serving as affiliate faculty in Virginia Tech's graduate program in educational psychology, teaching courses on cognitive processes and effective college teaching. She received a BA from the University of Virginia, an MA in history from Providence College (Rhode Island), and a PhD in educational psychology from Virginia Tech.
Current VALUE Research
The newest publication in a series of reports on the AAC&U Valid Assessment of Learning in Undergraduate Education (VALUE) Initiative, We Have a Rubric for That: The VALUE Approach to Assessment compiles 10 years of evidence to provide an argument-based framework for the assessment of student learning in higher education using the VALUE rubrics. Since their release in 2009, VALUE rubrics have been used in several initiatives to assess student work across institutions, states, and countries. Further, a review of the research literature elucidates the widespread use of the rubrics and documents the benefits and challenges curricular and co-curricular users face. We Have a Rubric for That is a validity framework with evidence from a wide range of sources including the growing body of scholarly literature examining the VALUE rubrics; AAC&U-commissioned research; AAC&U-administered surveys of users; data generated as part of the several grant-funded VALUE collaboratives (2014-2017), including commissioned analyses of the data conducted by recognized methodological experts; and interviews with the key personnel involved in the VALUE rubric design, creation, training, and implementation processes from its inception. Do you wonder if the VALUE approach represents essential learning needed for student success? Do you have confidence in the results when using VALUE rubrics? If the results can help educators enhance student learning quality? Are the VALUE approach results useful for professional development, institutional assessment for learning, capacity building, and/or accreditation? This publication provides timely evidence of the power of the VALUE rubric approach across higher education.